The gold Rag Doll Pendant is back! Stylized with angled edges and a highly polished finish for unique texture and shine. All of our pendants can pair with our 4mm curb chain to meet your styling needs.

• Moving parts, handset gemstones
• Chain Width 4mm
• Length 20", 24"
• Bonding 18k gold
• Weight 34 grams
• Material premium steel
18k Gold-bonded Our gold-bonded chains are premium steel coated 5x with 18 gold (5x more than the amount found in traditional gold plating). 18k gold is less prone to scuffing and does not bend or wear out as easily as 24k gold, so you can wear your jewelry all day, every day.
Free 1-2 Day Delivery on all orders £100+
Standard Delivery 3-5 Working Days (£4.99)
Priority Delivery 1-2 Working Days (£9.99)
If you have any questions please email: hello@allwearjewellery.co.uk
Opening Hours: Monday-Friday 9am - 5pm.
30 Day Returns
We offer 30 day returns on all orders. This begins on the day you receive your order. Orders must be returned within this window and the return fee is payable by the customer. We do offer a free returns label on all faulty products within 30 days.
All of our products enjoy a lifetime warranty, guaranteeing your product for any manufacturing defect.
This entitles you to a one-time replacement free of charge if your product breaks under normal wear and tear.
Please note that accidental damage or miss-use of product including problems with lack of care are excluded from the lifetime warranty.
The lifetime warranty does not include colour fading after 6 months from purchase.
Should you experience any fading after this time we do have a repair fee at a cost of £35 per piece, so we can re-apply an extra thick layer of gold.
Customer Reviews
Write a Review
Ask a Question
07/19/2022
Lisa B.
Croydon, England, United Kingdom
It's very nice I've had several people come to me asking where I got it from so I've gave them the name of you so I am recommending
06/13/2022
Margaret C.
Abbey Wood, England, United Kingdom
Luv my rag dolly pendant ten out of ten luv it
06/12/2022
JANE F.
Chatham, England, United Kingdom
5 out of 5 I LUV MY PENDANT!
NOT A LOT OF CHOICE, BUT WHEN YOU SEE SOMETHING YOU LIKE THEN GO FOR IT!. BEAUTIFULLY PAGAGED, CAME VERY QUICK & TRACKED ALL THE WAY, LOOKS LOVELY AND ALTHOUGH EXPENSIVE, WELL WORTH THE MONEY TO TREAT YOURSELF OR SOMEONE ELSE, THANK YOU, WILL SHOP AGAIN.
03/30/2022
Paula E.
Annesley, England, United Kingdom
Very beautiful and very fast delivery. Highly recommend.
Thank you for the beautiful ragdoll pendant and chain very good quality and excellent value for money highly recommended you take a look at this website. All wear jewellery. Very beautiful and very fast delivery. I have already been back on website and purchased some more jewellery. Excellent value for the money. Highly recommend.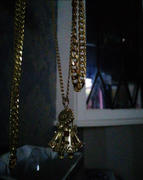 Very please with ...
Love the jewellry from here had 3 items from this company love it xx
All Wear Jewellery
So glad that you received incredible service from our team! Thank you so much for taking the time to leave us a review, it's so appreciated!
CUSTOMER REVIEWS
ALL WEAR THE BRAND YOU CAN TRUST
Products and Services that meet or exceed customer expectations result in customer satisfaction!